May Fair, Sat May 11, Noon-6
The annual May Fair is the association's main fundraiser and a neighborhood tradition. It is held on the Saturday before Mother's Day in Clark Park and the funds are used to support neighborhood schools, non-profit community organizations, and cultural events.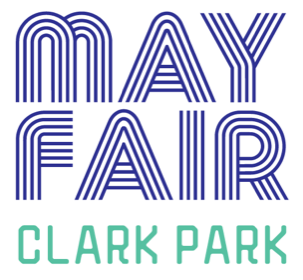 Spruce Hill's 61st annual May Fair will take place on Saturday, May 11 this year in Clark Park 12-6pm. Our popular family friendly favorites will return including petting zoo and moon bounce, live music and delicious food, raffle drawing with tons of prizes contributed by local businesses, a plant sale, and lots of vendors with crafts, artwork and community-oriented services. Plus, we'll have some exciting new musical guests joining us for this year's event!
Vendors, artists and crafts people, community groups and organizations seeking to do outreach and promotion are invited to be part of the SHCA May Fair. Space is limited this year and priority will be given to local crafters and artisans, community groups and organizations doing outreach. The fair supplies vendors with tables and chairs for very reasonable prices: $30 for non-profits not selling, $40 for all others.
Get Involved
We're currently looking for vendors, artists, craftspeople and other community groups to participate in May Fair!
To apply to be a vendor at the 2019 May Fair, please submit our online form by May 1 for consideration.
If you're interested in volunteering at May Fair 2019 please contact Vicki McGarvey. We're always in need to extra hands to help out during the event!
Keep your eyes peeled for our May Fair raffle with tons of great prizes. A link will be posted soon! For all other questions, please contact Evan Johnstone