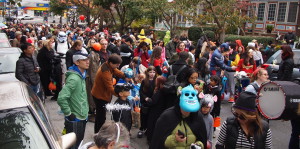 Halloween Tot Parade
One of the favorite activities within the neighborhood is the Annual Little Tot Halloween Parade and Party. The event is organized in a joint effort between the Spruce Hill Community Association and the neighbors on the 4200 block of Osage Avenue. The parade has grown each year and literally hundreds of little tots, 6 and under, with their adult parent or guardian, have participated in this fun afternoon of trick or treating along the parade route. The parade ends on the 4200 block of Osage Avenue where the neighbors throw their annual block-party style Halloween celebration treating the tots to cider and baked goods provided by neighbors and local businesses.
This annual event is traditionally held on Halloween day each year, and neighbors are encouraged to check with the SHCA website and other public announcements to learn about the date and time for the start of the parade. The parade has taken place over the past eighteen years, and for the past several years has started on 45th Street between Baltimore and Larchwood Avenues. The parade typically starts with a rousing drum and cymbal band provided by the University of Penn DrumLine. The parade and 'trick or treating' then proceeds East over Larchwood Avenue, ending on the 4200 block of Osage Avenue where the block party takes place. During the parade the route is blocked from vehicle traffic, and every effort for safety is provided by efforts from the University City District, police, and neighborhood volunteers. All in all, this is a fun, safe, family event for children, parents, and neighbors!